Check back often for updates!
On September 18, 2012, the Center's Board of Directors approved an investment totaling $370,000 in four companies located in the 32-county footprint served by the program.
PRLog (Press Release) -Sep. 19, 2012
 – STATE COLLEGE, PA – For 30 years, Ben Franklin Technology Partners of Central & Northern PA has made investments in entrepreneurs, tech-based start-ups, and small manufacturers who are developing new products or new markets.  The Program's goal is to create and retain jobs, assist in the development of new technologies, and support emerging tech companies as they grow and increase sales. For more information on the program, click on 
http://www.cnp.benfranklin.org
On September 18, 2012, the Center's Board of Directors approved an investment totaling $370,000 in four companies located in the 32-county footprint served by the program. The companies that received a Ben Franklin investment are:
Operating out of the Erie Technology Incubator on Gannon University's campus in Erie, PA, CE Convergence offers a convenient, easy-to-use continuing education management tool that keeps professionals compliant with licensing-board regulations. The company also provides a central online marketplace, where those who require a license to practice, can easily search and register for courses from a whole range of providers. While the software is initially focused on the accounting profession, the basic engine has been built to allow easy adaptation to healthcare, law, teaching, real estate, and insurance.  For more information, click on www.ceconvergence.com
Founded in State College, Ascent Bio-Nano provides high-performance, low cost, miniature flow cytometry devices used for biological studies, therapeutics, and even the medical diagnosis of HIV and cancer. Flow cytometry products that are currently
available and able to perform cell sorting functions, are bulky and expensive and not viable as a solution in resource-limited environments.  The company has filed for seven U.S. patents and invention disclosures for this device through Penn State University.  For more information contact Lin Wang at Lin.Wang@AscentBioNano.com
Lasers for Innovative Solutions (L4IS) is a State-College based manufacturer of electronic inspection and monitoring devices.  Current designs of X-ray tomography are slow, expensive, and don't offer the sensitivity needed for many applications in contemporary studies.  The company's technology is capable of decomposing physical objects and digitally reconstructing them as an interactive 3D model.  This is important as many large companies are seeking new methods to inspect high value assets such as genetically modified crops and gas well core samples.  For more information, email to info@14is.com
Located in Carlisle, CrimeWatch US has developed a software platform designed to operate on web and mobile technologies that allows more than 33,000 domestic law enforcement agencies to manage and control fugitive/offender information.  Crime Watch's web-based framework links local, state, and national agencies enabling them to organize fugitive and offender information in a format that immediately shares the information.  The forum encourages public interaction by offering dynamic information that is easily accessed across social media networks and other forms of electronic communication.  For more information see http://CrimeWatchPA.com
— End —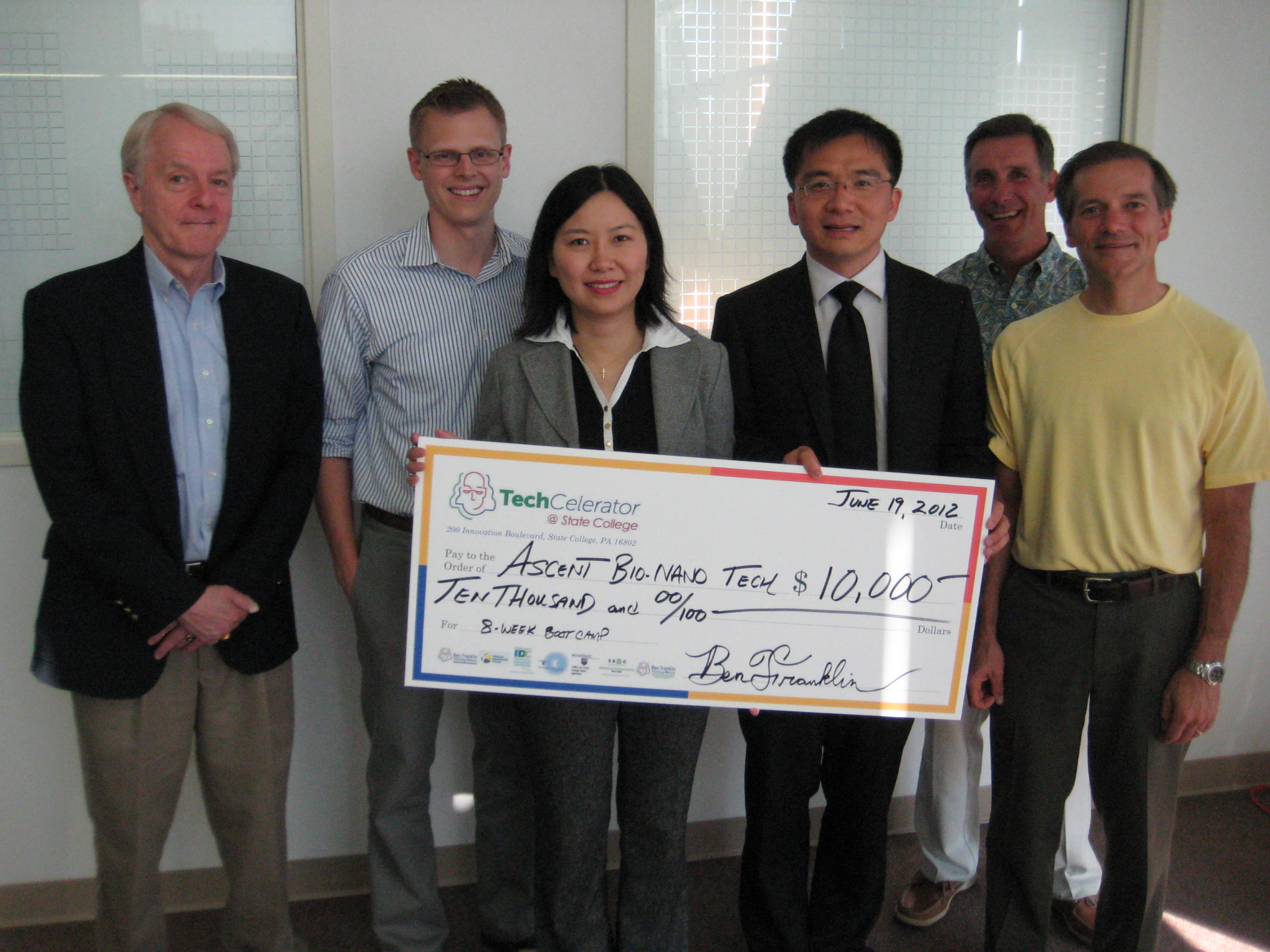 STATE COLLEGE, Pa.–(BUSINESS WIRE)–Two months ago, the Ben Franklin TechCelerator@State Collegeannounced it was looking for the best and brightest entrepreneurs from Centre, Blair, Mifflin, and Clearfield counties to fill six seats in an Eight-Week Boot Camp Training Program for business startups.
To be eligible to win $10,000 toward starting a business, applicants had to have a tech-based idea and a time commitment of at
least 90 minutes per week on eight successive Tuesdays beginning in April 2012. The response was overwhelming!
On June 19, 2012 all six contestants made presentations to a panel of judges comprised of entrepreneurs and CEO's from successful, local companies including: Dean Bunnell – Indigo Biosciences; Erik Davidson – Buzby Networks; Allan Darr – ProAct Ltd; and Todd Erdley – Videon Central.
The winners were Lin Wang, CEO, and Dr. Tony Jun Huang, CTO, of Ascent Bio-Nano Technologies, Inc. (www.AscentBioNano.com). The company, whose technology has been featured in a variety of prominent publications such as Science Daily, Advanced Materials, and the Journal of Physical Chemistry, has developed a chip that can produce three-dimensional focusing of a stream of cells – making it possible for inexpensive portable devices to rapidly screen cells for diseases such as leukemia or HIV.
To date, the CEO, Lin Wang, who holds Master's Degrees from Duke and Harvard University, and Dr. Huang, who is currently an
Associate Professor at Penn State University, have filed for seven U.S. patents and have been awarded two invention
disclosures. With plans to apply for a Federal Small Business Innovation Research Grant (SBIR), the partners have garnered
significant interest from two well-known industry leaders regarding possible business collaborations.
About the TechCelerator@State College
Located in the Technology Center at 200 Innovation Boulevard in State College, the TechCelerator @ State College is a
partnership among several of the area's economic development providers that offers budding entrepreneurs designated space,
loan and investment programs, business support and mentoring services, and entrepreneurial training all housed in one location.
For more information, go to  http://www.techceleratorstatecollege.org.
Contacts
BF Transformation Business Services Network
Don McCandless, 814-865-2040
Dlm74@psu.edu